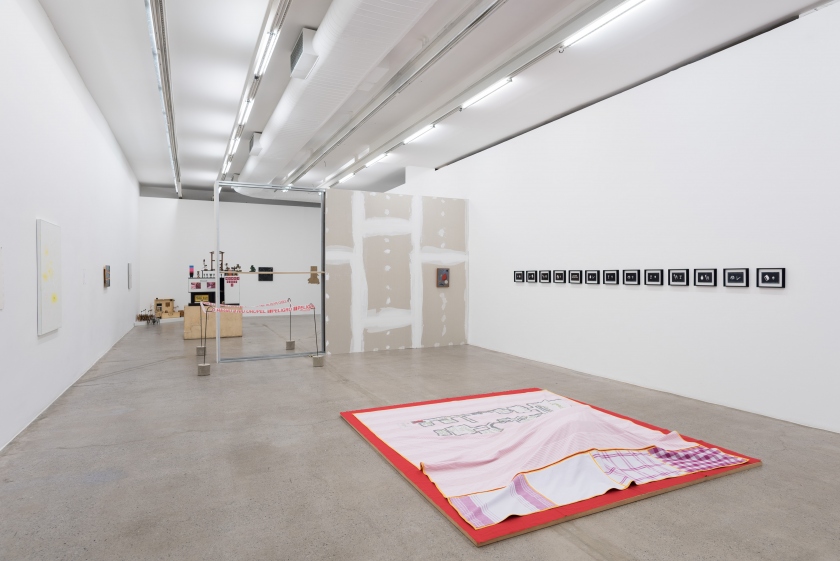 Homo Ludens, 2016, installation view, Galeria Luisa Strina, Sao Paulo.
It's September 2016. I'm in Sao Paulo, Brazil. I am walking through the palm trees disseminated over the boardwalks of the neighbourhood of Jardims. Luisa Strina gallery is one of the highlights of my tour. The text of Homo Ludens is written in first person, as the text I am trying to write without being too emotional towards this astonishing, poetic show curated by Ricardo Sardenberg. The outside world is present in the room, the outside atmosphere seeps in through the relations created between the works on show.
It is real. No fiction. Fiction does not have to deal with dream. It is not necessary to link magical, oneiric experiences with factual evidence. And this group show testimonies how the concept of game may reveal the deepest implications of contemporary events. Rather than an exhibition, Homo Ludens is a beach volley match at sunset between the artists involved, is the convergence of irrationality and nasty surprise into a magnetic container of iridescent truth.
The interaction between the works is not influenced by thematic organization, but it is constituted by a non-linear exchange of experience, allowing the works to attract each other.
No reason, this is a museum show, as many you can see around Sao Paulo's galleries. It is impressive how galleries here try to deliver a high-class offer, maybe without the worries of the economic feedback.