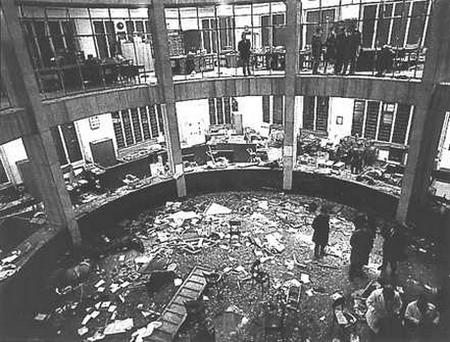 December 12, 1969. Milan, Italy. A bomb detonates at the National Agrarian Bank. At the time, the attacks were believed to have been the work of radical left-wing communists who had developed traction amongst students and laborers with the largely peaceful Autonomist movement. In actuality, the bombing was the work of fascists on the right, meant to fool the public into thinking that the leftist workers were behind the attacks thus extinguishing any further growth for their movement.
17 people were killed. 88 were injured.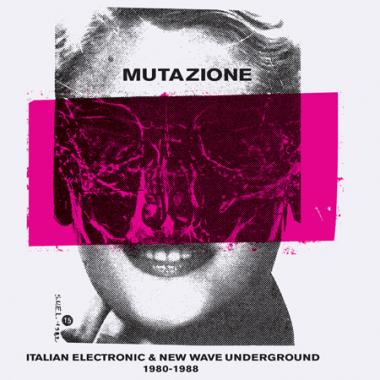 Thus began the period in Italian history known as the "Years of Lead" or the Anni di piombo. These years of social upheaval frame the political context (at least in part) of much of Italy's underground electronic music scene from 1980 to 1988, a scene borne of seething political dissatisfaction, and a reaction to the violent ideological clashes going on across the country. Combine that with the discovery of new, ever increasingly more affordable technologies to make music with (i.e. synthesizers, drum sequencers and tape recorders) and you have "art as activism". A survey of this previously undocumented slice of music history can be heard on the recently released collection from Strut Records, Mutazione – Italian Electronic New Wave & Underground 1980-1988.
The set available on double LP or CD was curated by Alessio Natalizia of the electronic duo WALLS. It is an elaborate and informative collection, containing 26 tracks of confrontational punk-like, machine music and acts as a kind of collective communiqué of an under represented scene's reaction to the aforementioned extreme social conflict on the right and left.
The physical edition (while available to stream on Spotify) includes essays on the historical background in its thorough liner notes, providing much needed band biographies and summaries of the political powers that were at odds during this period, namely neo-fascist paramilitaries, anarchists and the Italian government. Prior to the release of Mutazione, many of the songs included could only be found on out-of-print cassette or 7", released at the time in conjunction with fellow politically-minded zines and pamphlets, thus making them truly rare affair. This DIY ethos was a part of song construction amongst these artists as well. For example, The Trax Collective (members of which are featured on the compilation) traded ideas on tape via their own intricate social network of international artists proving to be prescient in what is now commonplace amongst electronic musicians in the age of the Internet.
Perhaps it goes without saying that this is not the safe radio-friendly sound of Italo disco. The music is visceral and searing. This is apocalyptic, avant-garde, dead can dance music. This is radical Italian art from the fringes, made by artists who had a by any means necessary attitude in creating. Bands like Cabaret Voltaire, Throbbing Gristle and Public Image Ltd. are obvious references on the music included. The instrumentation comes from keyboards, tape loops, field recordings, digital drums and some guitars sprinkled throughout.
Most of the lyrics are sung in English save for a few in Italian, or some wordless sound/noise collage experiments ("1984-1985" by L'ultimo Arcano or "Critical Situation" by La Maison). The vocals are mostly whispered, hushed as if to suggest the transferences of messages across tapped phone lines. In contrast, others are obscured by distortion creating the effect of voices carried via megaphones at union rallies.
At times, vocals are defiant, repetitive mantras like on Die Form's opener "Are You Before" or on Plath's "I am Strange Now". Other vocalists sound disaffected or monotone like on Gaznevada's "Going Underground - 2" or Giovanotti Mondani Meccanici's "Back and Forth", communicating a kind of fatigue or cool isolation that contrasts with the busy rhythmic backing tracks.
In terms of genre, songs like "Edges – Dance Version" (Kirlian Camera), "Waiting for September" (Suicide Dada) and "Maritime Tatami" (Victrola) are catchy new wave dance records. Songs like "Crisalide" by Tasaday, "Senza Tregua" by LA 1919 and "Auschwitz" by Maurizio Bianchi however, exist in the world of industrial noise and drone (varying sub-movements like dark wave, no wave and minimalism creep up on the comp as well).
Viva la radio.