A South Korean labor martyr's body was stolen by state and cremated against his wishes.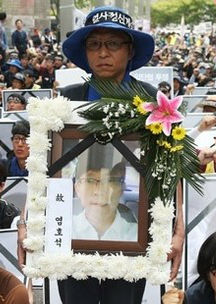 In case you thought the progressive reach of capitalism, and the state that acts on its behalf, would abandon you in death, REST ASSURED:
"The Samsung local chapter chair committed self-immolation in protest against Samsung's continuing labour repression. 300 police forces stormed his funeral wake, arrested 25 mourners, and absconded with the labour martyr's body. He was cremated under police protection against his dying wishes that his sacrifice be used to win labour rights at Samsung."
[source]