Bobby Shmurda: Viral and Invisible
"The people of the black diaspora have, in opposition to all of that, found the deep form, the deep structure of their cultural life in music. [...] think of how these cultures have used the body—as if it was, and it often was, the only cultural capital we had. We have worked on ourselves as the canvases of representation." – Stuart Hall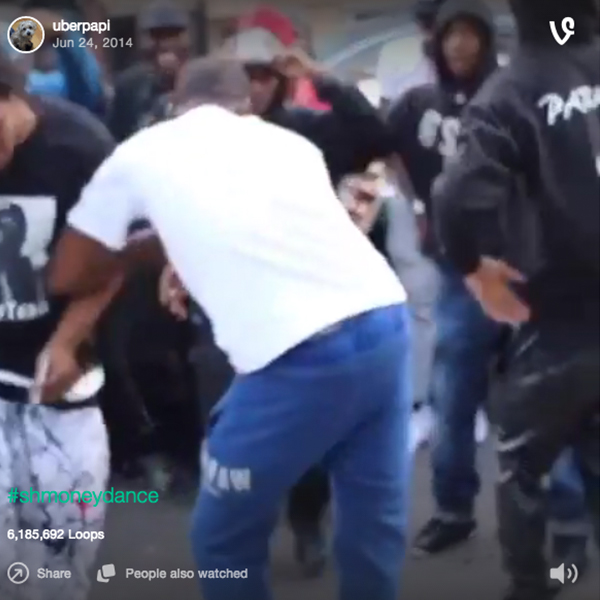 In March 2014, the rap video "Hot Nigga" was released on Youtube. The video shows Bobby Shmurda and his entourage in the streets of Flatbush, Brooklyn, rapping and dancing to an anthem about their crew GS9. Shortly after the release of the song, a six-second clip was extracted from the video and broadcast on the social media app Vine. The clip shows Bobby throwing off his hat and commencing a dance characterized by his sloping shoulders and switching hips, which he later coined the "Shmoney dance." The clip went viral, accumulating millions of views within a few months. This made Bobby incredibly visible, if only in a virtual sense—it allowed him to acquire cultural capital while his own agency and political visibility remained the same.
After the release of the vine, the "Shmoney dance" was performed by celebrities including Rihanna, Chris Brown, Drake, Taylor Swift, Justin Bieber, and Megan Fox. The common thread between these celebrities is that they are granted a different set of consequences by hypervisibility. Their lives and careers operate in a fundamental contradiction to Bobby's. They work in an economy in which they are rewarded for reproducing this gesture (and other Black vernacular gestures) through their own bodies.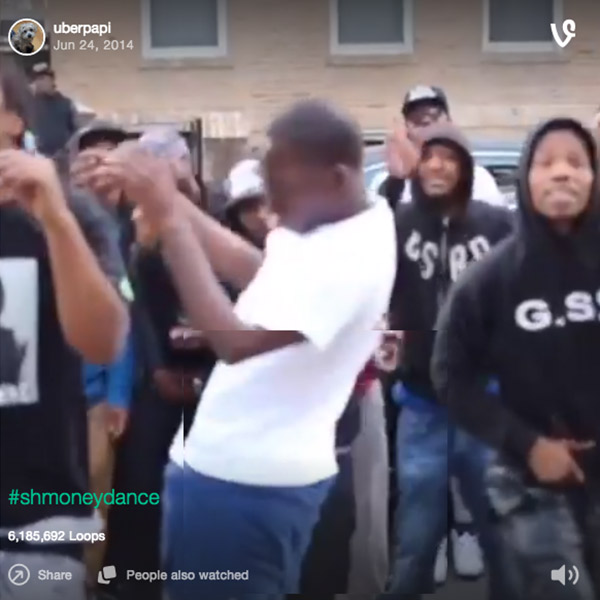 The consequences of Bobby's visibility, while initially positive, were ultimately grave. After the clip went viral Bobby began to perform gigs across the country. At the same time, police began to focus attention on Bobby and his crew over a shooting that took place in his neighborhood. After he was signed to Epic Records and began touring the United States, members of GS9 were pinned for multiple shootings. While he was not present at these shootings, the connection he maintained with his crew led to a police raid of Quad Studios in New York, shortly before Christmas, with 13 members of GS9 arrested for drug and weapons possession.
Bobby escaped the raid in the back of a car but was caught shortly after. The police found two guns, one in a duffel bag on his lap and another wedged in the back seat of the car. Bobby was charged with weapons possession, conspiracy to commit murder, conspiracy to commit assault, and possession of drug paraphernalia. Prosecutors claimed that the lyrics of his music were essentially a transcript of the crimes committed by him and the other members of GS9. When he was arrested he recalls the police taunting him and laughing, saying "Oh, we got him tonight—they're not gonna do any Shmoney dance tonight!" and expressing that they were tired of their kids listening to his music. Bobby was placed in jail with his bail amount set at two million dollars.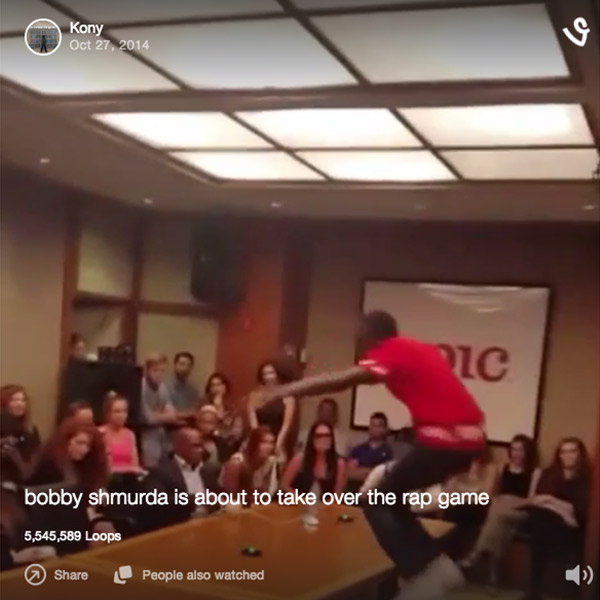 The astronomic bail amount was placed under the assumption that Bobby's virtual visibility reflected his net worth. Like most digital content creators with prolific followings, there is a disparity between this level of visibility and its financial pay-off. Several attempts were made to lower the bail amount but they were rejected. Bobby remains in jail pending his trial date in September (postponed for the second time since his original trial date of February 22, 2016). While his virtual representation acquires cultural capital, Bobby remains invisible. His image and gestures remain in circulation, propagated within and outside the confines of the internet.
The device of a looped gif is not exclusive to Vine but is made explicit by its UI, which counts revolutions as content is looped across all devices in which the vine is being accessed. The visual accumulation of loops on Bobby's dead body (in a Barthes-sense) can operate as a metaphor for the process of his digestion within the cyclic mandibles of the Internet. The dance is performed by a disembodiment of Bobby that operates as a jester to entertain and generate a mimetic cultural trope for those who access the video.
Manuel Arturo Abreu speaks to this kind of exploitation of the black vernacular in their essay "Online Imagined Black English". They make the case that black vernacular circulates online far removed from the people that created it. This method of cultural appropriation, or more accurately theft and erasure, is not new in American popular culture but is extended through the vehicles of technology, the internet, and social networking platforms. Non-Black Americans regularly borrow from the lexicon of Black American culture for their own interests, and the mediated space of the internet allows this to occur with even more ease. After entering the mainstream, words and styles that are borrowed from donor communities are then devalued, making them useless to the original creators. When these same cultural signs are performed by the originators, the users are socially confined and condemned based on their cultural background. The mobility of Black cultural signs is expedited by the internet, while political mobility of Black Americans is increasingly impaired.
The video from which the "Shmoney dance" meme originates is characteristic of the progression of gangster rap. Like his idols 50 Cent, Jadakiss and Uncle Murda, Bobby Shmurda comes from an underprivileged background where drug-dealing, violence, and jail time are eventualities that are expected to define one's life. In all conversations surrounding Bobby's rise to fame, the rhetoric implies that the trope of the gangster rapper seeking fame, wealth, and liberation from a life of crime is a familiar and admirable ambition. However, the position of poor Black Americans is considered alterable, not on a grand scale, but only in these instances. It is through an ahistorical and apolitical lens that economically disenfranchised Americans are encouraged to perceive life.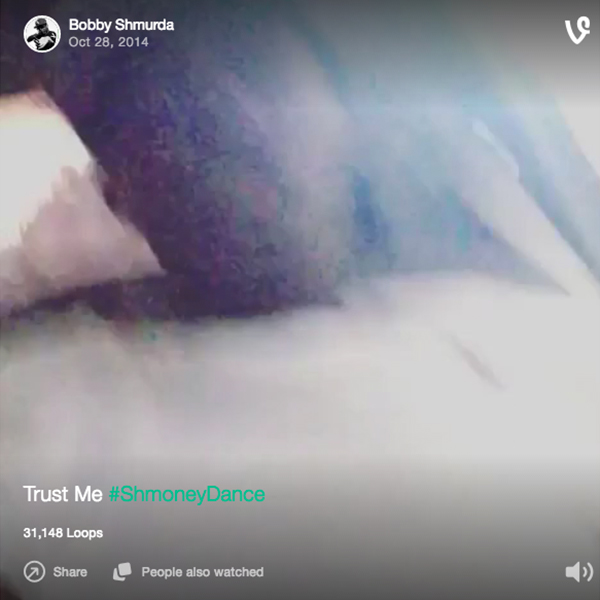 Though Bobby is integrated into the lifestyle, even he can perceive that the odds are stacked against him and those like him. Even though he has distanced himself from the gangster lifestyle after gaining fame, he feels that he's 'guilty for where he lives', because where he's from "you don't have to be in a gang to be in a gang, you just grew up in the neighborhood." If Bobby receives the full punishment of his charges he may be added to the list of up-and-coming rappers taken out of the game prematurely. For now, Bobby remains consumed by the virality of the internet meme, cannibalized by the the court system—a politically invisible man.